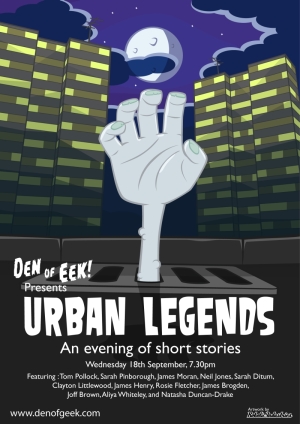 It's getting dark outside and I've only just shaken off enough of my hangover to write anything about last night. But despite the pounding headache, I've been in an insufferably good mood. Because last night, I hosted the second Den of Eek! event, and I think… I think it might even have been better than the first one.
Like last year, I invited a bunch of awesome people to come and tell original scary stories to an audience by candlelight. We used the same venue and the same set up: just a stage, a microphone, and a bunch of chairs, but this time the brief was slightly different. Rather than doing ghost stories, like last year, we asked everyone to come up with an original take on an urban legend. The stories they wrote were brilliant, terrifying, gruesome, funny… and deeply, deeply creepy.
We kicked off with Aliya Whiteley's megamix of urban legends, followed by Chris Farnell's cautionary tale about GM foods. Natasha Duncan-Drake came back from last year to tell us not to step on the cracks in the pavement, Neil Jones also returned with a warning to would-be petsitters, and Sarah Ditum told us an absolutely true story about something she found in the basement of her new house. To finish off the first half, Tom Pollock read a story about a mysterious key than unlocks more than just doors, and Joff Brown, another Eek! veteran, explained that a little imagination is a dangerous thing…
After a short break, Clayton Littlewood read the night's most shocking story – one of the highlights of the night, for me, was watching the expressions on people's faces during this one. James Moran passed on an evil curse; Rosie Fletcher's tale of sex and revenge was sleazy and gross (in a good way!) and Sarah Pinborough made everyone scared to take the bus home. James Brogden's story about a university prank gone wrong was funny right up until the horrifying punchline, and Kit Allen's Halloween history lesson was eerily fitting, given the location. Finally, James Henry's amazing meta explanation of where urban legends come from brought the house down.
I knew all the stories were good because I'd read them beforehand, so that I could put together the running order, but they really came alive out loud. Last year, I think I was too nervous about keeping everything running smoothly that I didn't get to really enjoy listening to the stories, but this year – despite a few teething troubles with the microphone! – I felt a bit more confident that it was all going to work out, and, self-congratulatory though it might sound, I had a really good time.
One thing that I really, really love about this event is that many of the people who read stories hadn't done it before. Some of them don't even write fiction very often, and certainly don't share it in public when they do. But they went for it, and – I think? – enjoyed themselves as much as we enjoyed their stories. Somehow, everyone I've asked to be a part of this has turned out not only to be smart and talented, but also fun and friendly and easy to work with. The atmosphere backstage is always brilliant – and I think that comes across to the audience, too?
Obviously the ultimate goal of Den of Eek! is to raise money for charity, and since this was another sold out event, we raised another massive chunk of cash for the Geeks vs Cancer appeal. I've thanked all of the performers from last night (many times over!), but if you came along, bought a ticket, or even chucked in a few quid's donation, you deserve a thank you too. You're brilliant.
We'll be putting together an ebook of the stories soon, and I'll be shouting about that when it happens, but in the meantime, if you didn't get round to buying last year's, maybe you'd like to pick up a copy now? It's on offer right now, so it's a mega bargain, and all proceeds go to a good cause.