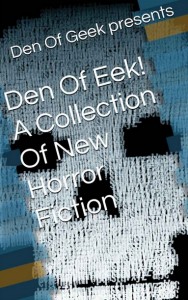 Hey, remember when I put together an event where loads of amazing people came and read ghost stories in a London pub? Sure you do. It was brilliant.
Well, finally we got round to publishing an ebook collection of all the stories read that night. The twelve short stories in this book are completely original, created especially for the event, so you can't get 'em anywhere else. The full contents list looks like this:
"Grindr" by Clayton Littlewood (author of Dirty White Boy and Goodbye to Soho)
"The Double Walkers" by Leila Johnston (editor of The Literary Platform and author of Enemy of Chaos)
"Siren" by CJ Lines (author of Filth Kiss and Cold Mirrors)
"Matron" by Sarah Pinborough (author of Poison, Mayhem, and The Language of Dying)
"Death in the Modern World" by Natasha Duncan-Drake (chosen as part of the Den of Geek new talent showcase)
"The 34 Steps" by James Moran (screenwriter for Doctor Who, Cockneys vs Zombies, and Tower Block)
"Ghosts in the Web" by Mary Hamilton (Guardian journalist and games designer)
"A Witch Killing" by Joff Brown (chosen as part of the Den of Geek new talent showcase)
"Unfriending" by Neil Jones (screenwriter for Bedlam, House of Anubis, and Hollyoaks Later)
"The Phantom Limb" by James Brogden (chosen as part of the Den of Geek new talent showcase)
"No Reason" by Johannes Roberts (director of Storage 24, F, and Roadkill)
"Forever Death" by Kevin McNally (actor in Supernatural, Pirates of the Caribbean, and Downton Abbey).
… Which, you've got to admit, is pretty incredible. All proceeds from sales of the ebook will go to Den of Geek's Geeks vs Cancer appeal, so when you buy it you also get to experience the warm glow of doing something good for other people. Which is priceless, really.
The ebook costs £5.14 and is available for your Kindle (or the Kindle app on your PC, smartphone, or tablet) here. Go and buy it, please.