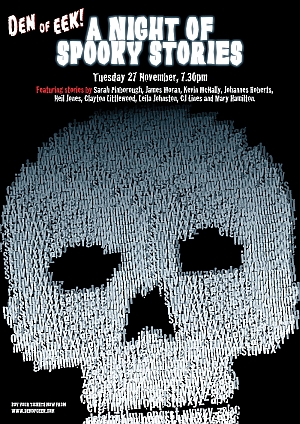 Last night I did one of the scariest things I've ever done: I hosted a live storytelling event that I'd organised. And it was amazing.
The idea for Den of Eek! had come months ago, after watching a reading of a short horror story elsewhere. I wanted to recreate the idea of telling ghost stories on Christmas Eve, and I thought it would be fun to get together a bunch of interesting people – not just horror writers – to see what kinds of stories they'd tell. I pitched the idea to Den of Geek and they were enthusiastic, and then I spent a frantic couple of months making it happen.
It's kind of incredible to me that it all went as smoothly as it did. Everyone I asked was into the idea, and they all wrote new, original, spooky stories for it. We ran a reader competition on Den of Geek looking for new talent, and managed to find three genuinely great stories to include as part of the event. We booked the function room of the Phoenix on Cavendish Square, and the lovely Mark Mitchell designed a fantastic poster for us to use to promote the event. Within a day of tickets going on sale, we'd sold half of them; two weeks ago, we sold out completely. Somehow, everything came together perfectly.
Last night, we had both an amazing line-up of speakers and stories, and a brilliant audience. Clayton Littlewood opened the evening with a creepy tale of being stalked on Grindr, followed by Leila Johnston's account of doppelgangers (which even included a reference to the death of my least favourite Romantic poet). CJ Lines told an oddly convincing story about a haunted videotape, Sarah Pinborough turned the reassuring tick of a grandfather clock into the terrifying noise of a monster, and Natasha Duncan-Drake used slasher tropes and Twitter formatting to create an almost poetic nightmare. The last story in the first half was James Moran's, which featured a haunted staircase and might have given me a whole new neurosis to deal with for the rest of my life.
After a brief interval, we came back with another six stories: Mary Hamilton's story turned the whole internet into a horrifying, ghost-filled wasteland; Joff Brown's tale of a witch-killing was delightfully creepy; and Neil Jones's story of Facebook betrayal was wonderfully told, a slow unfolding mystery with a killer last line. James Brogden's eerie story about a phantom limb was a really imaginative take on the idea of a ghost story, while Johannes Roberts's harrowing tale of bullying and revenge was probably the darkest story of the night. Finally, we wrapped up with Kevin McNally's gorgeously delivered tale of cursed treasure, all atmosphere and decadent descriptive language (a couple of people commented that they thought he must've been reading Lovecraft or Poe, but nope, that was an original!). Everyone brought something of their own personality and interests to their story, and it was kind of fascinating watching how it played out.
I thought I'd be sitting here this morning dissecting the night and thinking of things I'd've liked to change. But honestly, I think it was great. (I mean, I'm biased, maybe, but still!) My hosting skills were probably the weak link of the night, but I managed to get everyone's name right and didn't actually fall over, so I'm calling that a win. Keeping every story to around 5 minutes, and making sure the running order shuffled up the ultra-modern social media stories with the more traditional ones, seemed to keep the audience engaged. Everyone reading was just brilliant; I've said thank you to all of them a thousand times already, but I really couldn't have wished for a nicer, more creative bunch of people to work with. And the audience were so lovely, just warm and attentive, and it seemed like they were really having fun. I could've hugged everyone.
On a slightly more serious note, probably the best thing about the Den of Eek! night was that we decided to put all the proceeds from the ticket sales towards the Geeks vs Cancer appeal. We managed to raise a decent chunk of money, and it'll go to a genuinely good cause. We're looking into turning the recording of the stories into a podcast, or maybe putting together an ebook, so that even more people get to enjoy them – more news on that when I have it.
Right now, I'm just… really, really happy. Once again, I just want to say a massive thank you to everyone involved. You're all amazing.