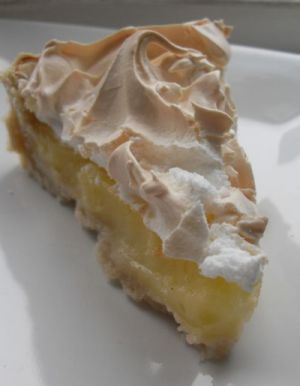 Somehow, meringue never seemed like a thing I could actually make. It's just too … weird.
Turns out it's actually quite easy. My boyfriend's aunt sent me her recipe in my birthday card, so yesterday I decided to make one. And it was both easy and delicious. So here's the recipe:
Ingredients for the pastry:
7 oz plain flour
3.5 oz butter
A pinch of salt
Cold water to mix
How to make it:
Preheat the oven to 200 degrees. Rub the butter, salt and flour together in a bowl, then add in just enough of the cold water to bind it together and create a soft dough. Roll out the pastry and use it to line a greased pie dish, prick the base with a fork, and chill it for 10 minutes. Then blind bake the pastry shell – put some greaseproof paper on top of it, weigh it down with rice or similar, and bake for 15 minutes. Then remove the paper etc and bake for a further 5 minutes.
Ingredients for the lemon filling:
2 medium sized lemons
4 tablespoons cornflour
9 fluid oz water
1 oz butter
2 oz caster sugar
2 large egg yolks
How to make it:
Grate the zest from the lemons, then juice them. Mix the cornflour into the lemon juice in a pan, then add water, lemon zest and butter and heat until the mixture boils, stirring regularly. Keep stirring over a low heat until the mixture is thick and smooth (kind of like a lemon curd, only it takes nowhere near as long). Remove from the heat, and whisk in the sugar and egg yolks.
At this point, it's probably worth tasting the mixture – mine was very sharp, and I probably could have added a bit more sugar. Once you're happy with it, pour the filling into the pastry base. Once it's cooled, stick it in the fridge till the lemon filling has set.
Ingredients for the meringue:
2 large egg whites
3.5 oz caster sugar
How to make it:
Preheat the oven to 170 degrees. Whisk the egg whites until they get thick enough to stand up in firm peaks, then gradually add in the sugar until the whole mixture is stiff and glossy. Spoon onto the top of your pie, then bake for 25-30 minutes.
And … that's it. (Sorry, it's all in imperial units because that's how it came to me, and I'm too lazy to convert it.)